Photo of Farmland near Guildford by Maureen Barlin under Creative Commons 
Monday 9 December –
Christmas Party

(FNW members only)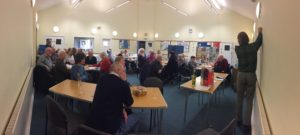 This year for the photo competition we need to see your pictures of 'Insects'. Pictures need to be taken within the village of Normandy, so get snapping unless you happen to have already taken a fab picture you can use already!
January 13th:

In Tune with Nature': how to make a wildlife garden with bee, butterfly and bird-friendly plants
Speaker: John Negus, a photojournalist who regularly contributes to BBC gardening programmes
February 10th:

Return of the Peregrine
Speaker: Keith Betton, Chairman of the Hampshire Ornithological Society, writer and broadcaster
March 9th:

Nocturnal animals
Speaker: Dr Mike Berwick of the Wildlife Aid Foundation
Our talks are on the second Monday of the month from September to April at St Marks Church Hall for a 19.30 start.
Everyone is welcome at our walks and talks, noting the summer walk and Christmas Party are for members only.
Charges
£2 for members
£3 for non-members
Free for children and students under 18
Venue for Talks
St Mark's Church Hall at 7.30 pm.
For more information email fnwildlife@gmail.com.
In the Summer we have walks rather than talks.  Our talks are on the second Monday of the month throughout the rest of the year.
The atmosphere at our talks is very informal with wine, soft drinks, tea and coffee available to buy and everyone is welcome to come – both adults and children.
Our speakers are always happy to answer any questions the audience has – and there are usually very interesting discussions!